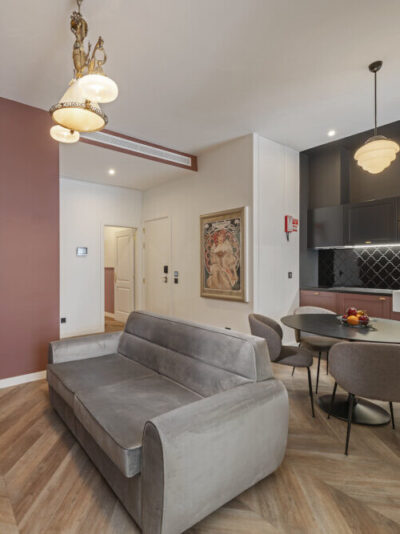 Located in the heart of the city, Madeira Gems apartments openly maintain a long-standing commitment to serving each client in the best way possible.
Madeira is more than just a destination for arts, culture and nature, it's also a welcoming community. That is why we built these 4 sophisticated designed gems in detail for your comfort.
The abovementioned apartments are a soft combination between Alphonse Maria Mucha artwork and a vintage style with a carefully selected mix of colours.
The apartments allow easy, simple and intelligent system; Free-Wi-Fi, a KNX management system for intelligent control and online monitoring, Assa Abloy digital key entry access by mobile phone and/or magnetic card, and it is equipped with a modern air circulation system, central heating, and air conditioning.
Extravagance, comfort and convenience are nothing without the peace of being safe. The spacious and luxurious apartments in Funchal incorporate a top-of-the-class security system to always ensure your family's safety. You'll experience the 'First Class' feeling of a luxury apartment, with all the familiar furnishings that will make you feel at home.